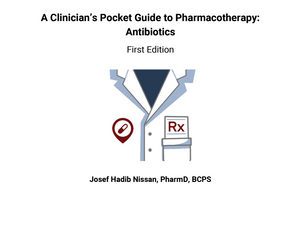 A Clinician's Pocket Guide to Pharmacotherapy: Antibiotics
Regular price $40.00 Sale
30% Off(!) First Edition Until Supply Runs Out
(discount will show in checkout)
-------------------------------------
Since the beginning of tl;dr, infectious disease (particularly antibiotics) has been our most requested topic. Written by our very own Josef Hadib Nissan, PharmD, BCPS (the same wunderkind who gave you our Acute Medical Emergencies Pocket Guide), this pocket guide is basically the sum total of humanity's antibiotic knowledge distilled into 60 pages.
That's maybe a slight exaggeration, of course...but we're really damn proud of this. And it fits beautifully in your white coat pocket. 

It's broken up into 3 main chapters:
Chapter 1: The tl;dr of Infectious Diseases
Chapter 2: Antimicrobial Management of Bacterial Infections 
Chapter 3: Antibiotic Dosing 
And then, in full tl;dr style, we get deep into the weeds to provide a comprehensive guide that doesn't exist anywhere else. Basically, we made the thing that we have always wished existed. Here's some of what's included (prepare yourself for an abnormally long bullet list):
Normal flora of the human body (divided by organ system) 
Signs/symptoms of infection and important diagnostic tools
Antibiotic mechanisms of action, pharmacokinetics, and pharmacodynamics
Antibiotic toxicities (including teratogenicity) and drug interactions
Oral bioavailability, systemic distribution, and IV/PO conversions
Beta-Lactam allergy cross-reactivity
Risk of C. diff infections per antibiotic
Renal/hepatic dose adjustments
Dosing for Special Populations (obesity, HD, CRRT, Peritoneal dialysis)
A boatload of practice-relevant clinical pearls 
The Antibiotic Pocket Guide is the perfect tool to help learn antibiotics in an efficient way. And it will be a handy reference you'll always have on the ready.

-------------------------------------
Errata (Page 13): Ceftaroline Gram(-) should be '+++' not 'n/a'.