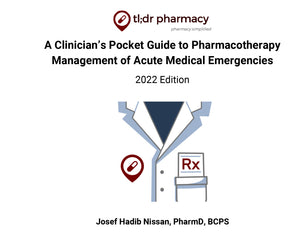 A Clinician's Pocket Guide to Pharmacotherapy Management of Acute Medical Emergencies
Regular price $40.00 Sale
30% Off(!) First Edition Until Supply Runs Out
(discount will show in checkout)

-------------------------------------
When you're covering the ICU and you're faced with an acute medical emergency, you want treatment algorithms, dosing, and useful clinical practice pearls in a hurry. 
This Pocket Guide is 50+ pages of concise, practice-relevant, pharmacy goodness that covers the most common medical emergencies you'll encounter in critical care.
Everything is organized by body system, so you can quickly find the info you need, and contains the stuff you've come to expect from tl;dr...
An easy-to-understand overview of pharmacologic (and non-pharmacologic) therapy
Lots of clinical pearls
Loads of other essential practice info
Organized in a way that lets you easily find, learn, and memorize the information.
It fits wonderfully in your white coat pocket. It's coil-bound (so it won't close on you), the pages are glossy for durability, and the plastic cover will protect it from both your pocket and repeated coffee spills.